Bio and Reviews of Jon's Music
Jon was born in 1948 in Hollywood, California. A early memory is listening again and again to harmonica great Larry Adler playing "Rhapsody in Blue" on the family Packard Bell consol.
In 1954, the Gindicks moved 200 miles north to the town of Visalia in the San Joaquin Valley. Although always motivated by art, it was here Jon got his taste of hard work. He worked in the fields, the plums, the peaches, packing house lines, drove forklifts, loaded box cars (and hitched a few as well.) In the 60's, Jon got his first guitar and blues harps and fell in love with "The Beatles," "Rolling Stones," "Paul Butterfield Blues Band" and Bob Dylan. Jon attended UC Berkeley, which had a vibrant music scene in Sproul Plaza, in the center of campus. He played harmonica and guitar with many musicians, going from group to group on the music-studded campus.
Graduating from Berkeley in 1970, Jon worked in packing houses and wrote short stories
and novels. His hero was John Steinbeck, but in fiction, he couldn't get close. Playing harp and guitar and writing songs constantly, he started teaching harmonica. In the mid 70' s he wrote and self published his first harmonica instruction book and tape cassette. He packaged them with a Hohner harmonica and sold the kit for $13.95 in "Rolling Stone" Classifieds. He sold thousands from his living room. Jon became a well-known figure to harp players of his generation.
In 1984, Jon wrote his best-seller ​Country and Blues Harmonica for the Musically Hopelessbook and cassette which eventually sold over a million copies. Jon created several harmonica instruction products and sold them in his mail order business. Cowboy harmonica, gospel harmonica, patriotic harmonica--all sounding bluesy in the way Jon taught and played.
Jon's books and cds were distributed into Cracker Barrel Restaurants, toy stores, mail order catalogs, sold on Home Shopping Network and Jon's own 800 number cable tv ad. He made a harmonica instruction video with BB King which was distributed by Hohner. These infectiously enthusiastic and funny do-it-yourself products made him one of the most popular and listened-to harmonica players of the era. Part of the fun was the songs he wrote and sang for his students to jam with. In 2001, Jon created Blues Harmonica Jam Camp, a harmonica/seminar/ workshop which focused on fundamentals of blues harp and jamming. Now the people Jon's books had touched were able to spend several days with him learning harmonica skills. To this day, Gindick has put on 67 multi-day harmonica learning events with two more planned for 2020.
In 2010, he met with multi-instrumentalist and producer Ralph Carter, and started honing his material for Carter's recording studio. In 2010 and 2016, he released his highly regarded Cd of 10-original songs "When We Die, We All Come Back as Music" which was produced and accompanied by Carter. Now, in 2019, Jon has released a second Cd, "Love At The All Night Cafe," a collection of 12 original songs again accompanied and produced by Ralph Carter and a musical team of Pete Gallagher, Franck Goldwasser. Like everything Jon has done, this offering is potent and innovative, creating its own category of blues. Jon lives in Ventura, California.
Here is a review from Blues Blast Magazine, April, 2017
Bruce J. Maier, Damn Good Tunes.
"Song after song Jon Gindick laid one surprise after another on me. I have never heard anything like this music. It is so outright original and entertaining it's hard to imagine why music like this hasn't spread like wildfire across the planet! All the elements are there; great words, instrumentation and production – top notch. But that's not even the kicker…it's Jon Gindick's soulful beautifully melodic choice of song structure – how the vocals dance through your head as a journey through an enchanted dreamscape of love, loss, pain, anger and joy like only a true legend would know how to deliver. Sometimes a crooner in the classic style, at times rough and raspy and others so subtle you can almost hear a secret you're not supposed to know! I have not been this surprised by a record or an artist since we started this web magazine over five years ago. And this CD will become one of my most cherished – right up there with "Layla" and "Let It Be." It's that good!" --
 Christelle Berthon, internationally acclaimed harmonica artist. "Jon's voice and harmonica convey an entire life dedicated to the music where nothing is superficial, nothing is too much. It has the monolithic simplicity of the great albums that you can hear for years without being tired of it. This album is terrific, track after track it puts you directly in the soul of the blues, and the life of a human being.. SO that's a big YES. I recommend this piece of art to everybody."

RJ Mischo, world renown harmonica artist.
"Wow! Absolutely fantastic! I really love all the tunes, Great writing, Great performances,well done production, I will spread the word. Great stuff !"

Adam Gussow, Oxford, Mississippi,  harmonica artist for Satan and Adam, author of "Mr. Satan's Apprentice," "Journeyman's Road" and other blues memoirs.
"Jon's music draws on so many sources: not just the country and urban blues harp masters who were his first inspiration, but torch singing, fast folk, big band swing, and a vein of New Age mysticism that challenges, inspires, and comforts in the face of a cold, hard world. This is sweet stuff--rough and smooth, hot and cool, edgy and friendly, with inspired harp stylings all the way through. Gindick is dancing his way past the grave, leading the way once again." 
 Jimi Lee, Austin Texas, world acclaimed singer, songwriter, guitarist, harmonica artist  
"I love this CD! I get them often, but this is my most favorite ever! Great harp, amazing vocals and superb production. It's a home run in every department. Especially the song writing."
Richard Hunter, Boston, internationally acclaimed harmonica recording artist and composer 
"... terrifically bluesy without sounding like anyone else's blues. Great Album!""
Mark Lavoi, internationally acclaimed harmonica recording artist with Bill Simms on Delta Groove Records
"These songs showcase Jon as a performing artist, who can deliver a story!"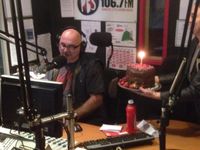 Peter Merrett, 107.6 Melbourne, Australia. 

 "Jon Gindick is new to us and l feel sick to my stomach that we have not heard of him sooner even though he has been around for years and achieved so much. As a singer he is outstanding possessing a unique voice that can convey every emotion his songs require. It is as a harpist where the compliments do not convey just how deft he is and just how mesmerizing his playing is. Song writing is obviously something that he excels in and l would not be surprised to see his writing credits on many recordings by other artists. The band is generous and infinitely talented as they paint a soundscape for Gindick to shine on. I absolutely love this album and have it right up there with my favourite release of 2016. Jon Gindick thank-you for this stunning memorable album. Blues is certainly in a good place when we have albums and artists of this calibre.  
   
… Now we come to Jon Gindick's album, l fell instantly in love with it, his voice, his songs, his band and that harp of his is absolutely sublime to say the least. It shines even through the darkest moments of various brooding ballads on it but throughout you know you are listening to something very special. 
 
 Track 1. - "When We Die, We All Come back As Music" Written by Jon Gindick. 
Wow what a brilliant song to introduce Jon Gindick to our psyche and audience. Gindick has a voice that sounds hardened by years of performances at far too many places to remember. Melding so many styles into his unique style has you grooving to this "new" sound. Throughout there is Blues, Country, Rag Time, Jazz, Folk, Rock and just about anything else you can think of. The uniqueness of Gindick's voice is so very attractive to the listener that you just feel at home with him and roll along with all of the nuances he displays. Brilliant singing, backing vocals, piano, rhythm section, clarinet, guitar and of course the virtuosic sound of Gindick's harmonica. 

Track 2. - "Wishing Well" Written by Jon Gindick. 
Expressive Blues ballad that has Gindick singing in a reflective plaintive style that is certainly engaging and very emotive. His harp, where does one start with the sheer brilliance of this man's playing. Easily one of the best players in the world today and for that here we have a master class of the art. I certainly love the feel of this song as the band stand back to allow Gindick to shine but they are on the same hand absolutely brilliant. I am particularly liking the subtle slide from Kavooras. Beautiful song delivered with perfection. 

 Track 3. - "Bird On A Wire" Written by Jon Gindick. 
Oh yeah a very laconic laidback gem of a song. Gindick sounds at ease as he delivers his striking vocals beautifully. No histrionics or unneeded flourishes. Ably accentuated by the backing vocals of Carter and Bixler. Now lets be frank right now and allow me to say that Gindick's harp on this one left me speechless and in awe of his prodigious talent. He has such a deft touch and a wonderful reed in his A Harp. This one certainly tears at your heartstrings as Gindick renders the listener helpless and emotional with this story of lost love and a broken heart. This for me is a standout track of the highest order. Man it is one that l will carry with me for a long time to come. 

 Track 4. - "Ghost Dance" Written By Jon Gindick. 
Here we return to N'awlins for a party that shuffles and jumps. Gindick is the master of ceremony's and takes us through the funky dance of life and for all the reasons we have to celebrate. Gindick's voice is absolutely perfect for this song as he sings/recites to us this quirky storey. Throughout the song his harp is a spiritual entity that permeates through every note and chord mesmerizing and bewitching as does the slide from Kavooras. A bit of voodoo happening with this stunning song that has so much power and passion. One thing is certain you ain't gonna want to sit still with this one. 

 Track 5. - "School" Written by Jon Gindick. 
Stripped back mid tempo Blues that has a R&B overtone to it what with the style the brass is delivered in. Gindick's voice is firm and expressive but at times has a delightful frailty to it. Again his harp is mesmerizing as is the band once again and they should not be forgotten in the brilliance of this album. Not only does Gindick deliver with his amazing voice and virtuosic harp but also the songs and charts he has on this album. The band, well let's be frank they are outstanding to say the least.       

Track 6. - "Maxine" Written by Jon Gindick. 
This one has a touch of R&R and R&B along with Jazz for good measure. Another quirky song that l surmise is Gindick's forte. He has a deft touch with his vocals so much so that he can meld and morph effortlessly into any style he requires. Throughout this album Gindick's harp shines and it does again here. Lovely shuffling song that has that 50's Jazzy Bop styling  about it. Yeah l can dig this one as well. 

Track 7. - "I Love You More" Written by Jon Gindick. 
Laconic Blues ballad that is dreamy and so very engaging. Once again Gindick displays his outstanding vocal skills to perfection as this is certainly a performance to savour. Solid rhythm section and percussion underpin it all together Carter lays down the stunning keys that allow Gindick's harp to be sparser but no less expressive throughout. For me this is how a Blues ballad should sound, one that just takes your breathe away. Now this is how to lay down a track that will stay with you. 

 Track 8. - "Mystery" Written by Jon Gindick. 
Wow just how many lyrics can you fit into a song?? Jon Gindick knows and that is what we have here on this wonderful shuffling beauty. Driven with aplomb by the rhythm section once again the band can riff perfectly and also Gindick's harp shines. Faultless performance that is infectious, so much so that you will want to dance to this one. 

 Track 9. - "Jealous Kind Of Guy" Written by Jon Gindick. 
Mid tempo storytelling from Jon Gindick that has a Latin overtone that is punctuated with is brilliant Blues harp.  Carter's guitar is a beautiful counterpoint to Gindick's harp as both resonate throughout the song. Once again the rhythm section are perfect! There is so much to love about this bright and breezy offering what with very cool keys throughout.  

Track 10. - "Easy Come, Easy Go" Written by Jon Gindick. 
A plaintive ballad that has Gindick wearing his heart on his sleave dripping with emotionally charged lyrics. His harp is morbid and dark but reflective and at times displays an uplifting exuberance. Albeit a short track it certainly takes your breath away with the sheer beauty and majesty of it. I know it may sound strange but to me this is a song anybody would assume was written by the late great Leon Russell. Gindick displays the very same rare ability to convey such deep, dark raw emotions into a song and not sound contrived. "